BLOSSOMS: Jordan Chooses Open Education for High Schools
March 29, 2010
Jordanian Minister of Education, Ibrahim Badran, announced Jordan's intention to start BLOSSOMS II in ten selected high schools of the kingdom. BLOSSOMS (Blended Learning Open Source Science or Math Studies) is an Open-education initiative started by MIT in partnership with Jordan and Pakistan.
BLOSSOMS has been designed as an Open Educational Resource (OER) consisting of web-based materials offered freely and openly for re-use in teaching, learning and research.
BLOSSOMS modules contain multi-segment educational videos to be shown in science and math classes at high school, a teacher in class then presents some interactive educational activities between each BLOSSOMS video segment to the students in class.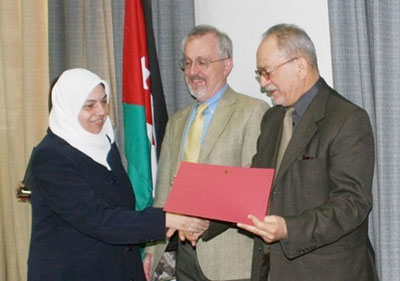 MIT Professor Richard Larson and Jordan Minister of Education, Ibrahim Badran, congratulate high school teacher, Ghada Sulaiman Abdullah Marmash, at a BLOSSOMS Appreciation event in Amman.
On March 22nd, a BLOSSOMS team including Professor Richard Larson (Principal Investigator), Elizabeth Murray (Project Director), Rana Qubain (Jordan BLOSSOMS Project Manager) participated in a meeting with Minister of Education and the 17 Jordanian professors and high school teachers who helped in the creation of BLOSSOMS modules.
In the meeting, the Ministry confirmed that Blended Learning will be a pedagogy choice for high schools in Jordan in the next ten years.
The above article appeared on the website of the Jordan Open Source Association: http://jordanopensource.org/